October is truly the best of the year to live in Austin, and one sole reason for that is ACL. It's the most beautiful time of the year for everyone's favorite bands to come together at Zilker Park and have amazing memories (or lack of memories for some).
It is the time of the year with endless amounts of traffic along with fights to the death for Ubers, second hand smoke for miles in all directions that can get even wilderness animals high from the fumes, girls whip out their flash tatts and most revealing outfits that are somehow accepted for the weekend, and let us not forget the bringing back of my favorite middle school dance: grinding. Nothing quite says romance like the art of grinding. So for those of you who do not get the opportunity to go to ACL, I genuinely feel sorry for you.
This past weekend was the first weekend of the festival and let me just tell you from firsthand experience it was absolutely insane. Despite the utter lack of deodorant worn by absolutely every one at the festival, the copious amounts of jiggling bodies showing their skin off to the sun for the first time in months, the beers that cost not only an arm and a leg but also your dignity and first born child, and of course the fact that 75,000 people were in my presence all trying to get an inch closer to the stage while using their elbows are weapons to do so, this weekend was truly outstanding.
The food was insane (over priced to the extent where I contemplated starvation on multiple occasions during the weekend, but delicious as hell), the set up at Zilker was fun and entertaining wherever you looked or walked, the fact that you could pay for everything with your wristband made every drunk person there the happiest they have ever been because they didn't have to search their bodies for their credit cards only to realize they lost them in a mosh pit earlier that day, and of course the music—oh goodness the music was so incredible that if you missed it, I feel so bad for you that I only hope science can create a time machine soon so you can experience it.
Friday is a rough day because most people have class or work in the morning, so they are not always in the highest of spirits once they get there. It picked up quickly, however with dope artists like Cherub, Run the Jewels, Billy Idol, George Ezra (who will make you cry with the beauty that is his voice), Tame Impala and a bunch of others. Disclosure was truly the place to be for all the dead heads who just wanted to desperately find Molly.
And of course, the Foo Fighters. Dave Grohl never disappoints and being on the Samsung stage was the most ideal location for them to truly shine. They may be old, but they sure as hell put on an amazing performance.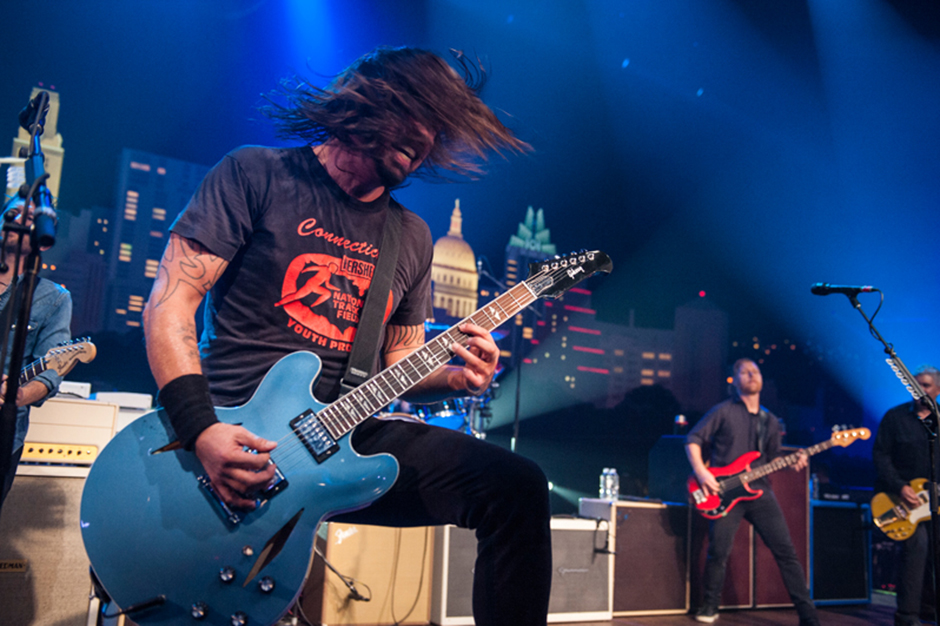 Saturday is the biggest day of ACL every year. This is when everyone brings out their most festival selves in order to make the most of the longest day. Echosmith, Glass Animals, MisterWives (who truly defines the meaning of a badass), Walk the Moon, G-Eazy, Alabama Shakes, Bassnectar — shall I continue? This list pretty much speaks for itself. The only problem with the Saturday line up was choosing with favorite artists to see and which ones to tragically miss.
And then, of course, there was Drake. Oh, sweet, sweet Drake. For those of you who, like myself, have followed Drake since he was in a wheelchair in Degrassi, then this moment really could be considered a peak of your lives. Not only did he shower the entire audience with love for not only Texas but also Austin, he performed the craziest set to ever grace the stages at Zilker. For those of you who probably have eardrum damage or lost any limbs while pushing yourself to the front of the stage to see Drake, I truly applaud you. His stage was so packed, it seemed like every single person at the concert was there to listen to him. The only thing that would have made his performance better: singing the Degrassi theme song. Hey, one can only dream.  Also note: Drake has gotten significantly hotter over the past year, so if you ever put him in the friendzone, reconsider.
Sunday was my personal favorite day of the festival. Sundays are always nice because everyone chooses to relax and stay chill instead of raging their faces off. The only problem with Sunday was the fact that I had to make some cut throat decisions in who to see since the day was packed with some of the most popular and famous artists of right now. From Years and Years, to Of Monsters and Men, to Alt-J, to my personal favorite, Hozier, and everyone in between, it was a day of unreal music and good vibes only. For those of you who did see Hozier, I think we can all agree that him singing "Black Bird" by the Beatles was one of the highlights of the entire concert.
But then, would the weekend really be complete without The Weeknd absolutely slaying the stage? I don't think so. There was skepticism on how he was going to perform due to his mellow songs, but he really killed it. The audience went back for what looked like miles. At one point, he even dropped a Beyoncé classic in singing "Drunk in Love" which made every girl in the audience fall for him even harder than they had before. Please come back, The Weeknd, all of Austin is begging you.
Though I feel I could talk about this weekend of ACL for the rest of my life, I will leave you all with this one last piece of insight: "Way up, I feel blessed". Does this apply to everyday life? No. Am I still not over Drake's performance on Saturday? Never will be.
To those of you who are going for weekend two—strap yourselves in because you're in for the ride of a lifetime.